Virtual Campus Clubs!
In response to the corona virus canceling schools, we still want the Gospel to go out!
Wow! What an amazing and stressful time we are going through as a country and world. As we all try to figure out how to navigate this situation, find toilet paper and seek God's peace in the midst of the storm, First Priority wants to continue our mission of sharing the Hope of Christ with every student.
Without schools in session, our normal strategy for sharing the gospel has to be adjusted. With schools closed, we still want the Gospel to go out! This is an especially important time to be sharing Hope when our lives have been uprooted and the world is in a panic over Covid-19.
So, we are working on an adjustment to our strategy…Virtual Clubs.
Following are the beginning thoughts on how Virtual Clubs will happen. Please read over this and begin praying for wisdom, for students to have the desire to continue meeting on-line, and for God to open the door for the gospel to continue to be proclaimed.
Please start communicating this concept with as many Student Leaders as you can. It will be up to them to run with this!
Click the photo below for a video!
Virtual Club: Concept:
The idea is to have every F.P. Club that met in a school to continue online in a Zoom Meeting.
This is a student led club!! Students will use their normal relationships and social media to raise awareness of the meeting and invite people to join.
2 adults who are vetted Campus Coaches and/or Faculty Sponsors must be present (as observers) in each meeting. Parents are also welcome (as observers) to see what their student is doing online in a Zoom video room. Encourage students to be in a main room of their home for accountability and for other people in their home to hear the Gospel (if it is not a distraction).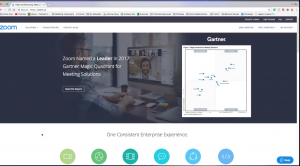 Virtual Club: Tech
Have all club leadership set up a free Zoom account. 
Each Free Zoom account gives you 40 minutes and up to 100 people to join.
Here is the website to get started: https://zoom.us/pricing
Virtual Club: Meeting
Hold the meeting on the same day as your club met at school. If you met before school, change it to 11AM so everyone is out of bed but before lunch.
Follow the HOPE cycle like you were in school. 
Expect the first 5 minutes to be social and waiting on everyone to arrive at your new location.
Remember your time limit is 40 minutes! Plan accordingly. Start the Zoom meeting 2 minutes before scheduled with 30 minutes of content. 
You can use the Polling feature inside Zoom as response cards. Directors: We can set up a form in smart sheet for you to post in the meeting chat to gather response cards. 
Use the chat feature to have everyone check in if you have a large crowd.
Be patient with yourself and others – this is a new model and will take a moment for everyone to get into their flow.
PLEASE INVITE HALEY TO THE CLUB MEETINGS! haleywherry@me.com or by phone at 423-676-3585.
One First Priority club at East Lansing High School has already started meeting on-line. Their first video already has 100 views and their largest in attended club had 55.  Their influence is increasing already!!
Once we get a few details ironed out on this, we will post and send all instructions and rollout a few instructional videos to go with it. 
Our goal is to have clubs meeting weekly by the first week of April.
Thanks for all you do for First Priority and for the Kingdom! I'll be in touch, soon!
Soli Deo Gloria,
Haley